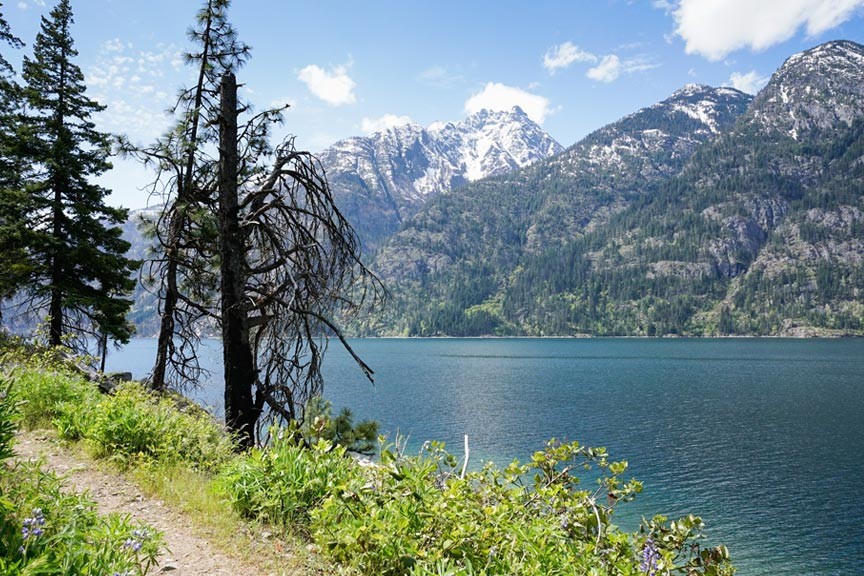 There is no end to the number of places you can explore on Lake Chelan and Kelly's Resort is near some of the best. Twenty-Five Mile Creek State Park is just 10 minutes away by car – but it's a lot more fun to take your time and get there by boat, if you can.
Twenty-Five Mile Creek State Park is a 232-acre public recreation area located on Lake Chelan's west side. The park is 15 miles northwest of Chelan on South Lakeshore Road – just 6 miles past our door.
The park was once a private resort but it came into state ownership in 1972. It boasts a marina with a small store, fishing, scuba diving, access to trails, and more.
Twenty-Five Mile Creek Marina
The park is known for its boat accessibility. Twenty-Five Mile Creek's modern marina provides excellent boating access to the wilderness portions of Lake Chelan's upper reaches.
The marina offers 34 moorage spaces, between July 1st and September 15th, for vessels up to 23 feet in length. Availability is based upon lake water level and spaces may be available before July 1st.
The park also features two boat launches that are generally usable from mid-June to the end of December. Again: depending on lake levels. Washington State launch permits and information can be found online.
Hiking, Biking & More
Twenty-Five Mile Creek State Park is oozing with extraordinary scenery and wildlife. You never know what you may see around the park. Chipmunks and squirrels are pretty certain but you may also spot bald eagles, deer, osprey, or even a bear or bobcat.
Spread out a blanket on the grass or take a seat at one of the picnic tables to enjoy a meal and soak up the view.
Dig a little deeper with some hiking or mountain biking. The park is also the perfect spot to begin day hikes to Pot Peak, Stormy Mountain and Devil's Backbone.
Twenty-Five Mile Creek State Park
20530 S. Lakeshore Road, Chelan, WA 98816
Summer hours – 6:30am to 10pm | Closed November 1st to March 31st
Learn more at www.parks.state.wa.us
Lake Chelan Resort
Come luxuriate on 200′ of waterfront, four docks, and a beach area with enclosed swimming at Kelly's Resort on Lake Chelan! Our small and friendly family resort is located 12 miles up Lake Chelan's South Shore with 11 individual cottages and 4 lakeside condos. Enjoy full kitchens, private decks with gas bbq's, a heated pool, laundry facilities – plus our small store and coffee shop. Book your stay today!