Top Lake Chelan Restaurants, all within 25 minutes from Kelly's Resort!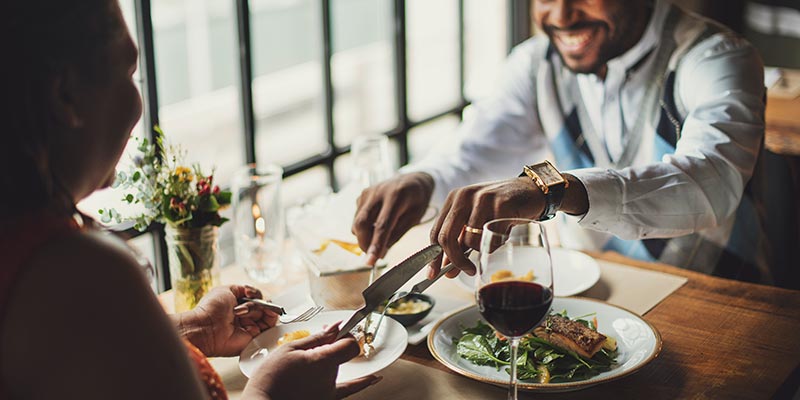 Enjoy this listing of Lake Chelan restaurants that rank in the top dining choices in the Chelan area. All of these wonderful dining experiences are located within a half hour's drive from Kelly's Resort, a small family Lake Chelan resort situated approximately 12 miles up the South Shore.
Lake Chelan Restaurants:
18 Brix Restaurant at Karma Vineyards: The Restaurant at Karma Vineyards features ingredient driven wine country cuisine using sustainably and organically grown local ingredients. Be seated inside or out at this year-round restaurant. Chef Alicia Alvarez will introduce you to her delicious creations that are Washington fresh with a French twist! Locally sourced, produced, and eaten… perfect! Guests also enjoy private dining in the wine cave. An experience that includes an unforgettable dinner coupled with their signature champagnes, wines and spirits. Imagine an event that is catered just to your liking including private service, custom menus, and a memory of a lifetime. 18 Brix would be a very special addition to your Lake Chelan Vacation.
---
Siren Song Vineyard: Siren Song Vineyard offers a variety of European style menu items, artisan pizzas, freshly tossed salads, platters to share, and hand-crafted desserts and fresh French baguettes, made in house daily.
---
Sorrento's: Sorrento's is ranked as one of the top scenic view restaurants in America! Experience world class food and wine overlooking beautiful Lake Chelan. Enjoy this perfect setting for a romantic evening with that special person. Open year-round with stunning views year-round! In Summer guests enjoy the warmth and beauty of the the surrounding area. In winter, the inviting Italian fireplace, panoramic views of Lake Chelan and snow clad mountains continue to amaze visitors. Open for dinner: Wednesday-Sundays 5pm to close. Lunch: Saturdays noon to 3pm, and Sunday Brunch: 10am to 2pm.
---
Bear Foods Natural Food Market & Cafe: This is a gourmet and specialty foods store featuring organic produce, local beef & pork, gluten-free foods, wine & beer and much much more! When the owners bought Bear Foods they had a vision to create a café that would compliment the store and provide a unique dining experience where everyone could eat. Teresa had the idea for crepes, inspired by her years living in Europe and Nick developed the batter, inspired by the needs of customers free of the usual suspects (wheat, milk, eggs). We knew we were on to something – a batter both savory and nutritious, and allergy free! They use the best ingredients, direct from the store. Cafe hours Daily 9:30am – 2:30pm.
---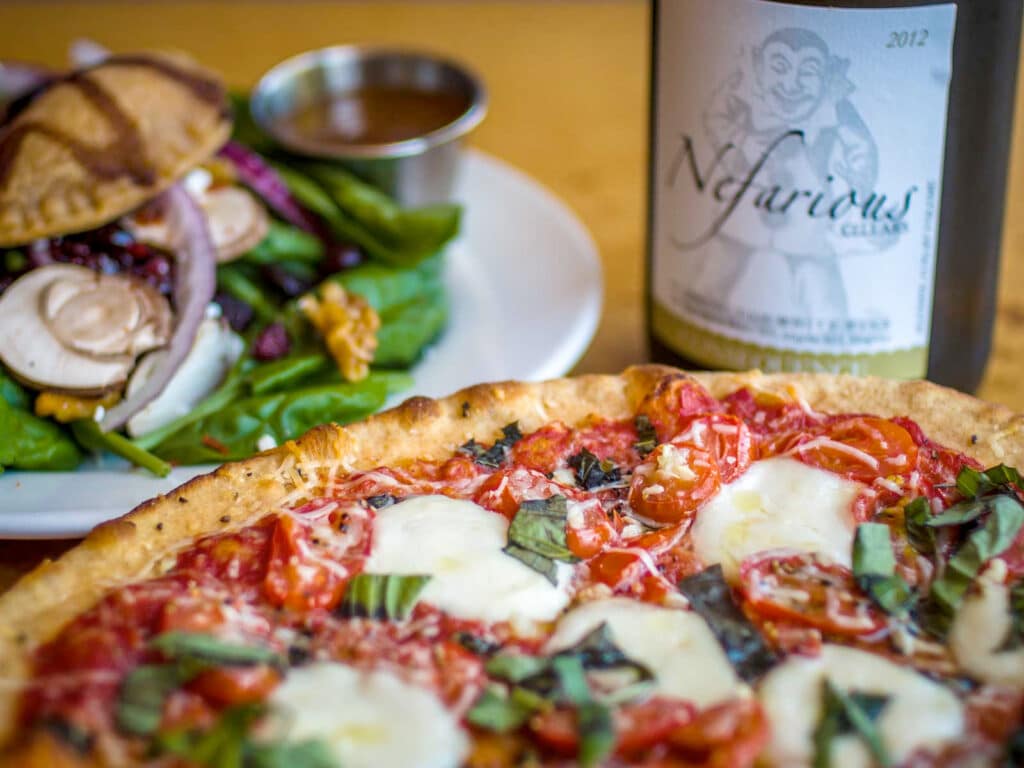 Local Myth Pizza You're hungry and thirsty and it's been a long day on the boat, on the beach, on the bike, in the mountains… it's time for pizza! The smell of roasted garlic and fresh dough fills the air as you walk down the street, and when you step inside you know you've found a "slice" of heaven. Hand rolled, hand crafted artisan pizzas and calzones, freshly prepared salads, antipasto and delicious, homemade desserts. Ten local beers on tap, and over thirty local wines.
---

Andante: Andante is a fine dining experience proudly offering their version of Italian style cuisine along with some of the finest wines from around the world. The sounds of Frank Sinatra, Dean Martin and live piano regularly fill the air. Enjoy house-made polenta, lasagna, tortellini, and more. Come visit, sit, relax and enjoy Chelan… Andante style! Dinner service only, 5pm-10pm daily.
---

Quick Wok: Quick Wok is Asian fusion "wokked" to order. Enjoy delicious, nutritious cuisine with vegan, organic and special diet options available. Here you design your own wok by choosing ingredients from their menus, or let them help you create a meal based on your preferences. Their spices & sauces are made in small batches and they are suitable for vegans. Many of the spices and ingredients they use are organic, and all of their sauces can be made gluten-free on request.
---
Apple Cup Cafe & Fireside Lounge 22: The Apple Cup Cafe gained its name from the time when great hydroplane races took place on Lake Chelan. The restaurant has been open since 1957 and is dedicated to customer service, cleanliness and quality, things you expect from a home-style cafe. Open 7 days a week from 6am to 9pm. Full bar, breakfast served all day.
---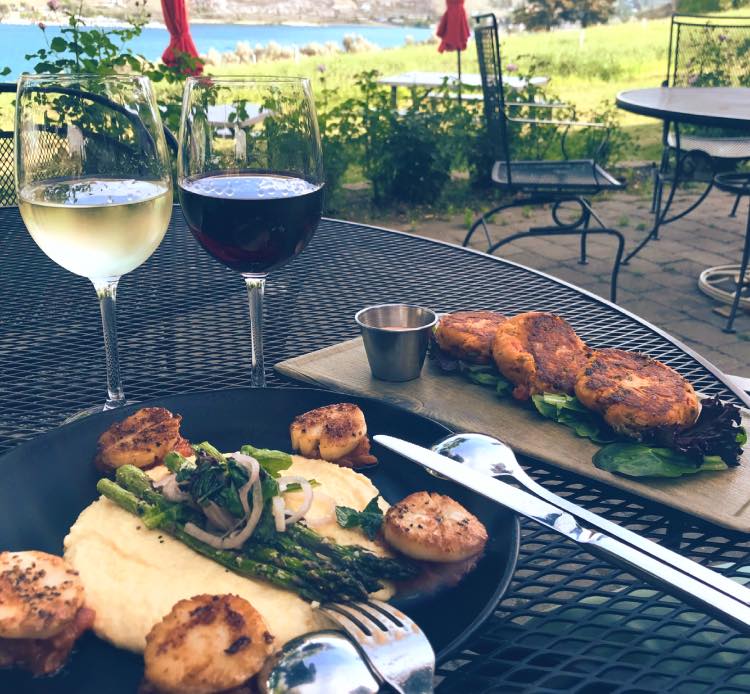 Vin du Lac Winery & Bistro: When the warmer days of spring and summer roll in you can join Vin du Lac Winery & Bistro on their patio, and when the chill of winter is here, step indoors to their Bistro and relish in the sounds of light dinner jazz while enjoying the company of good friends. The restaurant menu is updated quarterly to highlight seafood, foraged and harvested foods, fresh cheese and other delicacies as they come into season. The atmosphere is family friendly with a children's menu, and features live music Saturday Evenings. Hours: Thursdays, Fridays and Saturdays: Noon to 8pm.