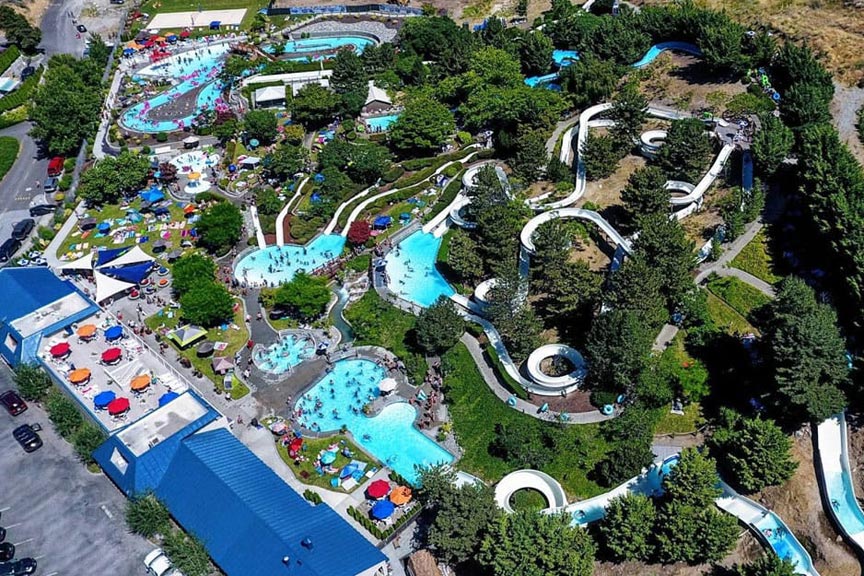 Looking for some wet and wild fun or high-flying adventure off the lake during your Chelan getaway? Consider a visit to Slidewaters Chelan water park. The seasonal attraction is home to a dozen attractions, with ziplines, axe-throwing, and more right nearby!
Guests of Kelly's Resort will find plenty to do on the property during their stay. Hiking, swimming, fishing, boating, sunbathing, and more. For those wanting to get out and do some exploring, however, Chelan has plenty to offer.
Those looking for a little excitement will enjoy a visit to Slidewaters, located just 20 minutes from Kelly's Resort at 102 Waterslide Drive, Chelan, WA 98816.
Slidewaters Chelan Water Park
Slidewaters has been providing good, clean fun in Chelan for nearly 40 years. The park has 19 different attractions on 12 acres and is open from Memorial Day Weekend to Labor Day every year.
Slidewaters has 12 different water slides at the park for all types and ages, including tube slides and mat slides. You'll also find a lazy river, a gigantic hot tub, a zero-depth zone with spray features, and an activity pool for the little ones. There is also a gaming arcade, volleyball court, sun deck, cabanas, a grill, concession stands, and a retail shop.
Learn more at www.slidewaters.com. You can also find the park on Facebook.
Perhaps best of all, Lakeside Surf and the ziplines of High Trek Chelan are just next door!
Lakeside Surf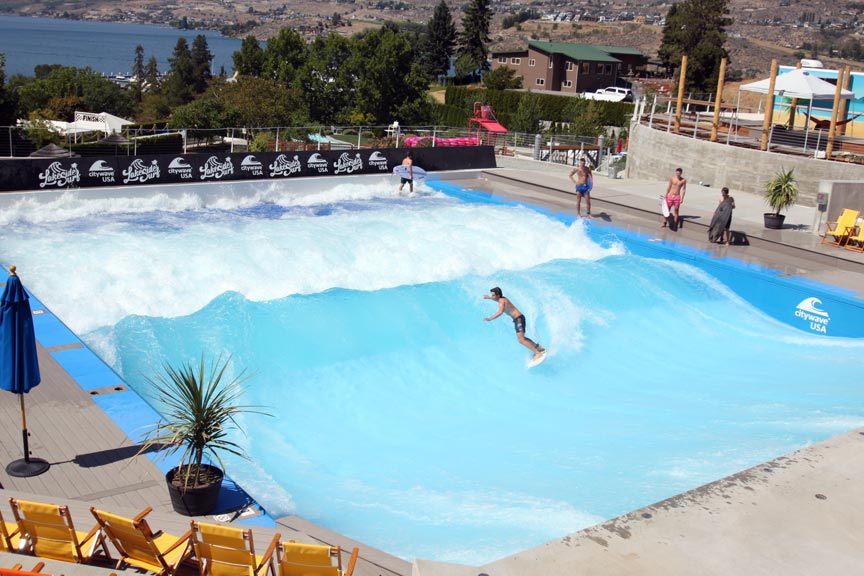 Lakeside Surf opened next door to Slidewaters in 2021 with what was then the world's largest deep water, stationary wave. While that has since been surpassed, Lakeside Surf's wave is still excitingly big.
The deep-water wave at Lakeside Surf is perfect and stable: up to 6 feet in height and over 54 feet wide! The pool's technology provides a smooth and controlled experience for all surfers, no matter their skill level. You can even use your own board! There's also a nearby hot tub to chill out in as you wait (or recover!) from your turn on the wave.
Lakeside Surf is actually part of Slidewaters, so your Slidewaters ticket gives you access to Lakeside Surf. Further, if Slidewaters is open, so is Lakeside Surf. The reverse is not true, however. Lakeside Surf has longer hours and a longer season than Slidewaters, running from April 1st to August 31st. Learn more at the Lakeside Surf website.
You say you'd rather climb or fly than swim? No problem! High Trek Chelan's rope course, ziplines, and more are also part of the Slidewaters complex!
High Trek Chelan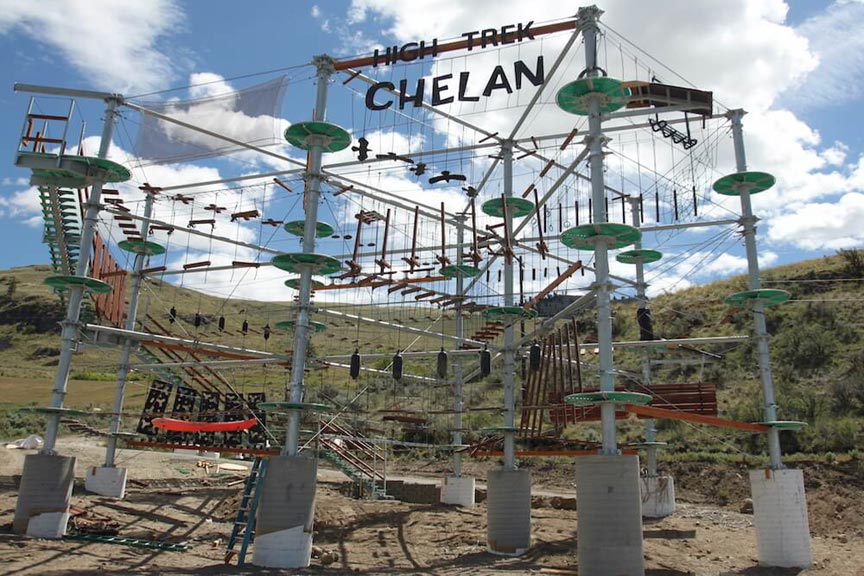 If you enjoy challenging yourself and or soaring through the air, you'll love High Trek Chelan.
The High Trek Chelan rope course features 3 levels with over 60 different challenges, at heights of 8 to 45 feet above the ground. The course gets more difficult as you go up, with challenge elements color coded for difficulty. The tour is self-led, so you choose your own pathway to success.
Once you're done with the ropes course, it's time for a high-flying zipline tour around the park! High Trek Chelan has 2 state-of-the-art ziplines spanning 560 feet. They'll train you on how to safely use the high-tech, European carabiners and zip trolley, then it's off you go!
Boy, that was fun and fast! Want to go again? You can! There are no limits to the how many times you ride the ziplines. How's that for value?
Once you're tired of flying and climbing, you can always go try your hand at axe-throwing. Staff instructors are there to teach you the skill, if needed, and just wait until you stick your first throw. Talk about addictive fun!
High Trek Chelan is located in the upper parking lot of Slidewaters, next to the entrance for Lakeside Surf. Visit them online at www.hightrekchelan.com.
Spend the day enjoying the many attractions at Slidewaters, then it's just a short drive to the comforts of your digs at Kelly's Resort on the shores of Lake Chelan. What an awesome day!