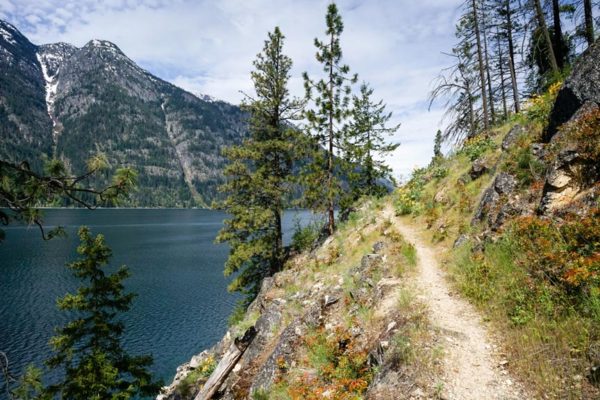 Looking to stretch your legs on a Lake Chelan hiking trail or two but not sure where to begin? The valley is home to a number of excellent trails – none bad – but some are definitely more popular than others.
Lake Chelan attracts many with its sparkling waters, beautiful beaches, sun, and sand – but the mountains that make up the valley are just as gorgeous and full of promise.
There are more than 250 miles of maintained, Lake Chelan hiking trails to explore and some fourteen major trailheads. Some of the back-country trails are open to horses, mountain bikers, and even motorcycles but most – 190 miles worth – are restricted to non-motorized travel.
Picking a trail can be daunting with so many to choose from but we can help. Below is a selection of some of the more popular hiking trails near Kelly's Resort.
Lake Chelan Hiking Trails
Little Bear Trail
Little Bear is a family friendly, 2.3-mile loop trail that takes you through wildflower filled meadows in the forest overlooking Lake Chelan. The trailhead is located in Lake Chelan State Park, just 4 miles down South Lakeshore Road from Kelly's Resort. The park includes some 6,000 feet of waterfront, bordered by the Lake Chelan State Park Trail. The park also features picnic tables, restrooms, and playground equipment. Learn more.
Pot Peak Trail
In contrast to the family-friendly Little Bear Trail listed above, Pot Peak promises a real workout. The trail gains some 1900 feet in elevation in just over 6 miles. The Pot Peak trailhead is located about 3.5 miles past Twenty-Five Mile Creek State Park, less than 10 miles from our south shore Lake Chelan resort. Primarily a biking trail, Pot Peak is for experienced, motivated hikers. More information.
Stormy Mountain Trail
Enjoy expansive views from the peak of Stormy Mountain on the 1.5 mile Stormy Mountain Trail. Located just under an hour from Kelly's Resort, past Twenty-Five Mile Creek, on FR 8410. This trail is short but still a workout due to the elevation gain – but the breathtaking views are so worth it. Directions and other info.
Echo Ridge Trails
Echo Ridge Recreation Area offers a concentrated network of varied and excellent trails. The area is also nearly an hour from Kelly's Resort but west on Highway 150, towards Manson. Known as Echo Ridge Nordic Ski Area in the winter, the nearly 25 miles of loop trails were designed for cross-country skiing. Trail difficulty varies from "easy" to "most difficult," providing options for hikers of all stripes. Learn more.
More Lake Chelan Hiking – and Lodging
We've barely scratched the surface of Lake Chelan's great variety of hiking opportunities. You can read about more area hiking here but your best bet is to come and explore in person.
When you do come, consider treating yourself to a stay at Kelly's Resort on the south shore of Lake Chelan. Our resort offers 200′ of waterfront with four docks, a beach area, swimming, laundry, store, lodge, cottages, condos, and more. Reserve your Lake Chelan getaway at Kelly's Resort today!