Fall is a great time to visit! Explore our recommended Fall Lake Chelan Activities!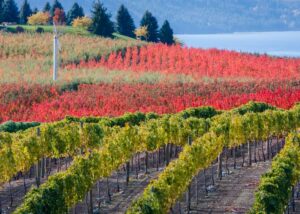 Fantastic Lake Chelan Activities continue into fall! Temps are in the 70s and stunning fall colors are all around. It's the perfect time to enjoy laid-back autumn days at Kelly's Resort and local events.
Mahogany & Merlot is an annual boat show that takes place on the waters of Lake Chelan. It features live music, food vendors, games, crafts, gifts, and a beer garden. The event showcases classic cars on the shore and antique boats in the water. Vintage Unlimited Hydroplanes, Inboard 'Limited Class' Hydroplanes, and Antique & Classic Mahogany Runabouts will take you back to the golden era of pleasure boating. Visit mahoganyandmerlot.com for more info.
Fall brings the most exciting time of the year for wine lovers. It's a time of harvest and the annual Lake Chelan Crush event. This year's celebration includes wine tasting, grape stomping, dancing, and great food. Most of the local wineries host events, including winemaker and harvest dinners to close out the season. Visit the Lake Chelan Wine Alliance for participating wineries and a full listing of Lake Chelan Crush Festival events.
This is the largest skydive festival in the Northwest, and it's hosted here at Skydive Chelan! Everyone is welcome to skydive or spectate. Enjoy turbine aircraft, helicopters, bi-planes, food vendors, live music, and more! Visit the Event Website for more info.
The Manson Chamber of Commerce and Seattle Inboard Racing Association host the Annual Manson Hydrofest on Manson Bay. Get up close to hydroplanes on display along the street in downtown Manson. The fun starts Friday afternoon at WineGirl Wines. The kickoff party includes music, wine, beer, and more!
Racing begins Saturday morning and runs through Sunday. Come down and tour the pits with a Pit Pass for $10 and enjoy Manson Fire Department BBQ across the street. Take the opportunity to visit 20 plus tasting rooms and great restaurants in downtown Manson. Visit the Manson Hydrofest website for more info.
Outdoor Fall Activities:
Autumn visitors enjoy winery tours, hiking, biking and golfing. Take in a show at the Ruby Theater, shop and dine downtown – the options are simply endless!
After the fun, head back to Kelly's Resort to enjoy your a glass of wine and the views of Lake Chelan.