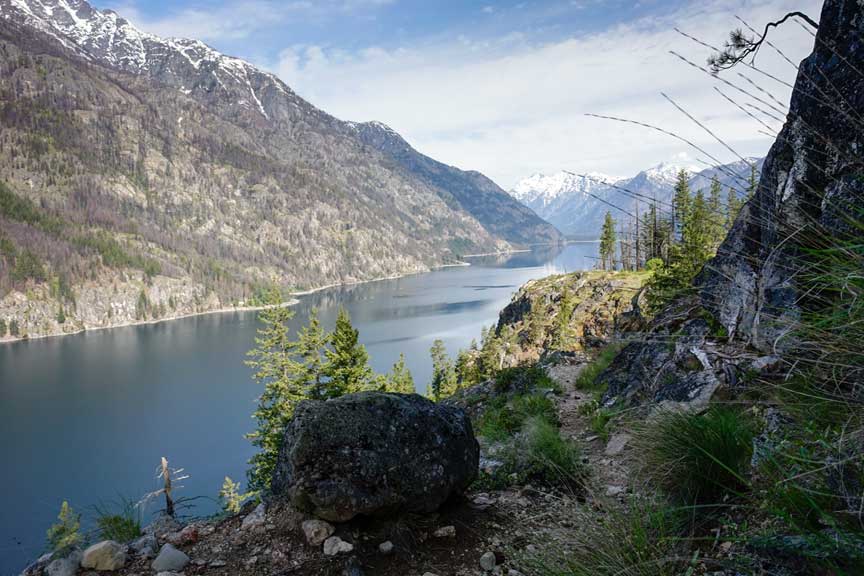 It's the end of the season for us here at Kelly's. Our Lake Chelan resort closes from November to March every year – but there's still time to catch one last week of fun with us here at Lake Chelan!
2019 has been a great year. We've met lots of great guests, had plenty of excellent weather, and had endless fun here on the lake. Business as usual, in other words.
Yet, all good things must come to an end – or take a winter break anyway, and that's where we currently find ourselves. Getting ready to batten down the hatches and await the welcome return of spring!
But the fun isn't entirely over just yet. There's still a week left to our season and plenty to see and do here at our Lake Chelan Resort!
October Fun on Lake Chelan
Chelan Valley Farms Pumpkin Patch
Visit Chelan Valley Farms pumpkin patch for some traditional harvest-time fun! Hay rides, a pumpkin patch, doughnuts, winter squash, u-pick apples, petting zoo, and more. 10am to 4pm, every weekend in October. Learn more at www.chelanvalleyfarms.com.
Winery Tours at Lake Chelan Winery
Hear the Lake Chelan Winery story, learn about the wine making process, and sample our fine wines with a tour of the winery. Best of all, it's FREE! 2pm on Fridays, Saturdays, and Sundays. More details at lakechelanwinery.com.
Diamondback Acres' Glacier Fed Organics Store
Shop a variety of organic fruits and vegetables at the Glacier Fed Organics store. U pick and pre-harvested Honeycrisp, blueberries, honey, zucchini, heirloom tomatoes, pumpkins, and more! Plus wine and snacks on the deck. Open every Saturday through October, 8am to noon. More info at www.diamondbackacres.com.
Halloween Costume and DJ Dance Party
Get set for a fun and friendly costumed dance party at Siren Song Winery! No cover charge or reservations are required, just don your Halloween best and get ready to dance! Includes wine and food for purchase and a costume contest with prizes. 21 and over only. October 25th, 7pm to 10pm. Further details can be found at www.sirensongwines.com
4th Annual Pumpkin Carving Contest!
Stormy Mountain Brewing's annual Pumpkin Carving Contest includes costumes, music, and prizes! Come carve and compete (or just spectate – still a great time!) for "Spookiest," "Silliest," "Cutest," and "Most Pumpkiny" of jack-o-lanterns. October 25th, 5pm to 7pm. See more details at: stormymountainbrewing.com.
Lake Chelan Lodging
Kelly's Resort is open every year between April 1st and November 31st. Kelly's Lake Chelan resort has been offering the best in Lake Chelan lodging for 70 years – and we've no plans of stopping any time soon.
Come partake in the goings on at Lake Chelan for the last week of October, 2019 or await our return in April, 2020. Either way, we look forward to seeing you soon at Kelly's Resort!