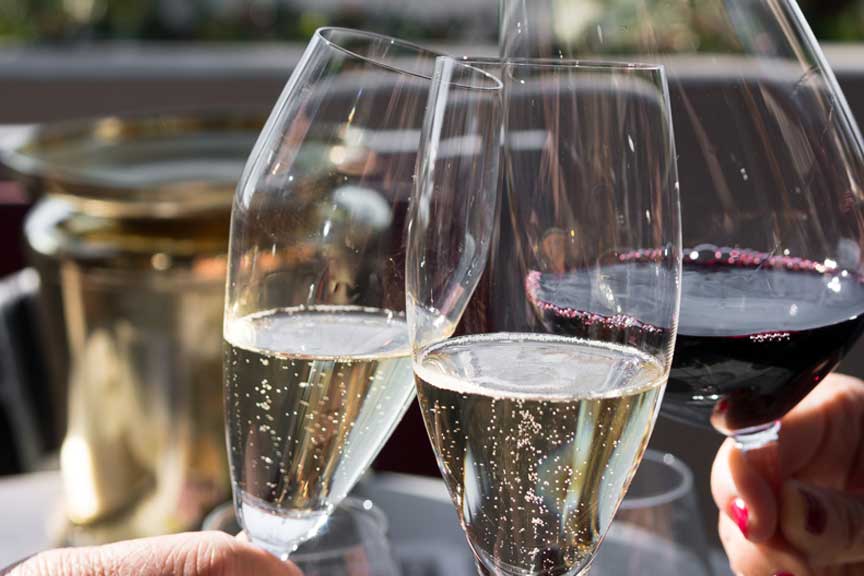 The Lake Chelan area has a wide variety of excellent wining and dining options. One local favorite is located nearby Kelly's Resort: Karma Vineyards and 18 Brix restaurant!
As we've mentioned before, Lake Chelan is an official American Viticulture Area (AVA). The soil, elevation, climate, and more are perfect for the cultivation of wine grapes. The proof of this is in the more than 30 Lake Chelan wineries, producing an array of fine wines.
Our location on Lake Chelan's south shore of puts seven Lake Chelan wineries within easy reach, including Karma Vineyards.
Karma Vineyards
Karma Vineyards is less than 15 minutes south of us at 1681 S. Lakeshore Road. Their lovely, 14 acre vineyard provides sweeping views of the lake.
Varietals grown at the vineyard include Gewürztraminer, Syrah, Pinot Noir, Riesling, Chardonnay, and Pinot Meunier. The vineyard is known for its fine sparkling wines, created utilizing the time honored méthode champenoise. Méthode champenoise requires secondary fermentation in the bottle, producing a superior sparkling wine. Karma Vineyards is one of a very few producers of methode champenoise in Washington.
Sparkling wine isn't the only style of wine they produce, however. Rosé, Sauvignon Blanc, Riesling, Gewürztraminer, Cabernet Sauvignon, Chardonnay, and others are also in the cellars. Visit their online wine shop to see the current offerings.
You can also stop in for a taste. Tasting room guests are invited to sample wines at seated tastings – and did we mention there's a restaurant on premises?
18 Brix Restaurant
18 Brix is the name of Karma Vineyards on-site restaurant. The name comes from the level of sugar in the grapes Karma Vineyards uses for their sparkling wines – around 18 brix.
18 Brix offers locally sourced, fresh, pacific northwest cuisine with a French twist. The menu includes offerings ranging from yummy appetizers like Baked Brie in Puff Pastry to a full meal of Citrus Prawns and Scallops.
The restaurant is open year 'round, with seating both inside or out, weather permitting. Choices include a beautifully landscaped patio, out among the vines, or close to the cozy fireplace during the colder months.
You can also reserve a private chef-paired dining experience in the vineyard's 3,000-square foot Wine Cave. This unforgettably romantic dinner can be designed to your liking, with private service, custom menus, and Karma's signature champagnes, wines, and spirits.
Special Events at the Vineyard
The vineyard grounds include an amphitheater with stunning views of Lake Chelan and the surrounding area. A variety of special events are held here throughout the year.
Visit the winery online at goodkarmawines.com for more information on current events, reserving a Wine Cave dinner, and more. You can also follow them on Facebook.
Lake Chelan Lodging
Kelly's Resort is open every year between April 1st and November 31st. Now is the time to get your plans together for that vacation, family reunion, or wedding on Lake Chelan. Whatever your plans are, Kelly's Resort is here with a fine selection of cottages and lakeside condos. Enjoy enclosed lake swimming, a heated pool, laundry facilities, playground, canoes and kayaks, walking trails, and so much more.