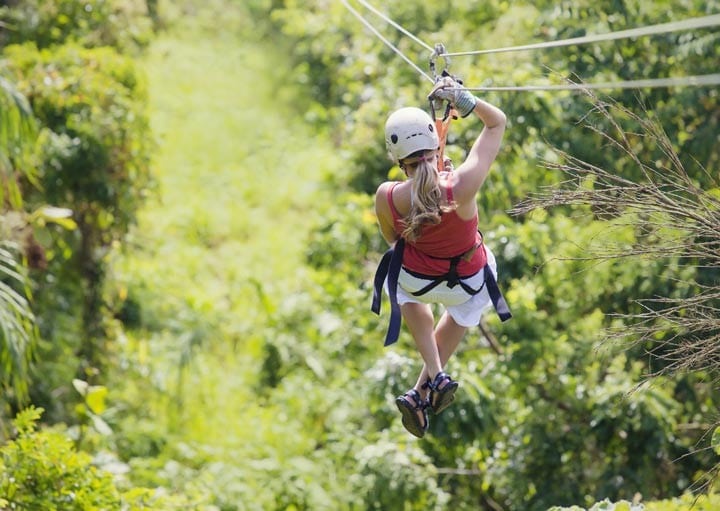 Come soar from high mountain cliffs overlooking the Columbia River at speeds of 50 to 75 mph (80 to 120 kph) on a Lake Chelan Zip Line Adventure!
If you've never ridden a zip line, it's quite the experience! Zip lines are sturdy cables riders slide down at exciting speeds, the treetops beneath their feet.
If you have had the experience, then you'll be glad to hear you can relive it again, during your Lake Chelan getaway. Oh, and did I mention it's at a Lake Chelan winery?
Lake Chelan Zip Line & Wine
Castle Vineyards is a 60 acre winery and Zip Line park located just south of Lake Chelan above the Columbia River.
The vineyard was established in 2012, using Austrian vines to produce a wide variety of wines. Malbec, Cabernet Sauvignon, Pinot Grigio, Riesling, the rare Gruner Veltliner, and many others.
The winery sells wine by the tasting, glass, bottle, and case. Paired wine tastings are available with some very exceptional vintages in their stable. Sit back on the vineyard veranda and pair your wine with the gorgeous valley views. Castle Vineyards also offers highly rated wine tours.
Then again, maybe you're here for their other attraction …
Tunnel Zip Lines
Tunnel Zip Lines were designed to provide extreme experiences – and do they deliver!
The first is a practice line. Here you'll get used to your helmet, the harness, and learn the do's and dont's of zip line safety. The next two lines stretch about 500 feet (152 m) from one ridge to another. They'll get you up in the air and used to the fun of riding a zip line.
The longest and fastest stretches some 880 feet (268 m) and gets riders up to speeds of 50 to 75 mph (80 to 120 kph) – but that's not all! This last line also uses a pair of industrial-strength, bungee-style cords as a braking system. Instead of stopping you at the end, this unique method captures your momentum near the end of your run to fling you several hundred feet back up the zip line! The process repeats, less each time, until you come to a dangling stop, at which point the guides will come to collect you. Phew – what a blast!
Best of all, you're treated to expansive views during the whole ride. Vineyards, cherry orchards, the Columbia River, and more!
They also offer a tour that includes the history of Lake Chelan, a historic teacher's cabin on property, and amazing views of the Columbia River valley.
Tunnel Zip Lines at Castle Vineyards
19840 US Hwy 97A, Chelan, WA 98816
Open 7 days a week, 10am to 7pm. Learn more at their website.
Lake Chelan Lodging
Kelly's Resort is open every year between April 1st and November 31st. Our small family resort on the South Shore of Lake Chelan offers a fine selection of cottages and lakeside condos. We also provide enclosed lake swimming, kayaks, walking trails, and 70 years experience on the lake. Plan your next Lake Chelan getaway today at Kelly's Resort!