The small lake side village of Manson lies along the north shore of Lake Chelan. Located just 7 miles from Chelan and 35 minutes by car from Kelly's Resort makes it an easy day trip. For guests staying at Kelly's Resort, you can even boat over! The Marina is an easy walk to downtown. It's perfect to boat up to and enjoy the town of Manson Washington for the day.
Exploring Manson Washington
Manson is a charming agricultural and artisan community. It enjoys lake views to the south, and 7,000 foot snow capped peaks to the north. This perfect setting and abundant resources have inspired generations of family businesses, shops, restaurants, vineyards and wineries. More than a dozen unique wineries call Manson home. The town prides itself on having the most wineries within walking distance of each other in the county. Take the Manson Scenic Loop to enjoy them all.
In the heart of downtown is Lake Chelan Brewing Company where you can enjoy great beer and food. This stable of the downtown area is a terrific place to relax after a morning of exploring. For lunch and dinner locals and visitors alike enjoy homemade pizza from Troy's Pizza. Other favorites include: Sunset Bar & Grill and My Buddy's Place. Crosswinds Restaurant is located nearby at the Mill Bay Casino.
Manson Bay Park & Marina is a great place to bring your family. There's friendly lifeguards, safe waters and beautiful scenery. Located just beyond the Park is the pet-friendly Dog Park, also known as the "Old Swimmin' Hole." Nearby Willow Point Park is also ideal. You can easily spend a whole afternoon laying in the sun or playing in the water.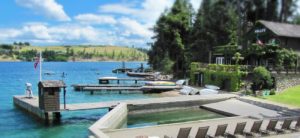 No matter whether you decide to drive or boat over, a day exploring the charming town of Manson Washington will delight every traveler. At the end of a fun filled day, head back to Kelly's Resort for a restful night's sleep.