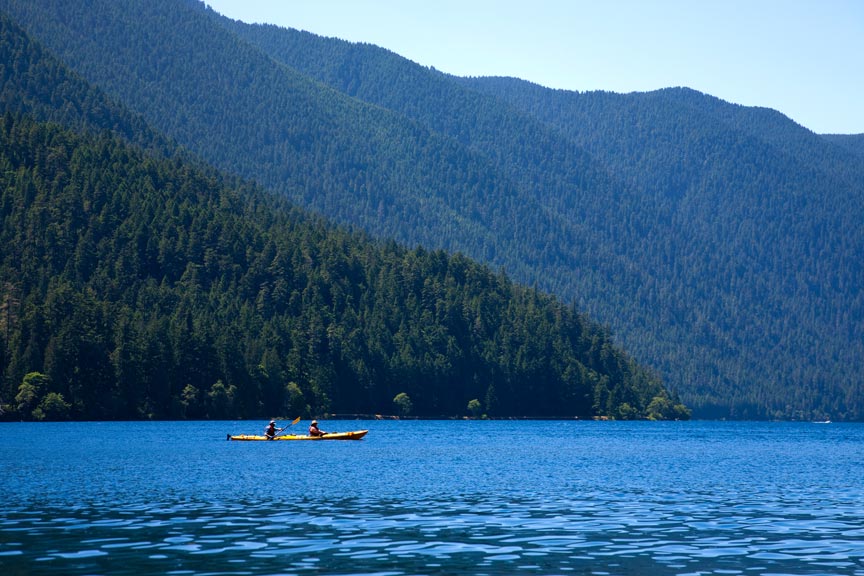 Kayaking Lake Chelan is one of the best ways to get up close and personal with the legendary lake's endless beauty. Kelly's Resort has you covered with not just kayaks but rowboats, canoes, and paddleboards you can use.
Lake Chelan is a narrow, 55 mile (88.5 km) long, glacier fed lake. Some sections of it are over 1400 feet (426.7 m) deep, making Lake Chelan the third deepest lake in the country, after Crater Lake and Lake Tahoe.
Lake Chelan is also well known for its stunning water clarity and some of the best fishing in the Pacific Northwest. The lake is home to numerous species, including varieties of salmon, trout, bass, and more.
Nothing beats boating on Lake Chelan. Though you can do so in a powerboat, and many do, a paddling trip gets you closer to the water. Not just physically but also mentally – and perhaps emotionally.
A powerboat can be fun, exciting, and extremely helpful but they're noisy and it usually ends up being more about being out on the boat, rather than the water. Paddling a canoe or kayak puts you at water level and, via your paddle, in direct connection with it.
Paddling takes more effort but the payoff is a more serene and intimate communion with the lake and your companions.
Canoeing and Kayaking Lake Chelan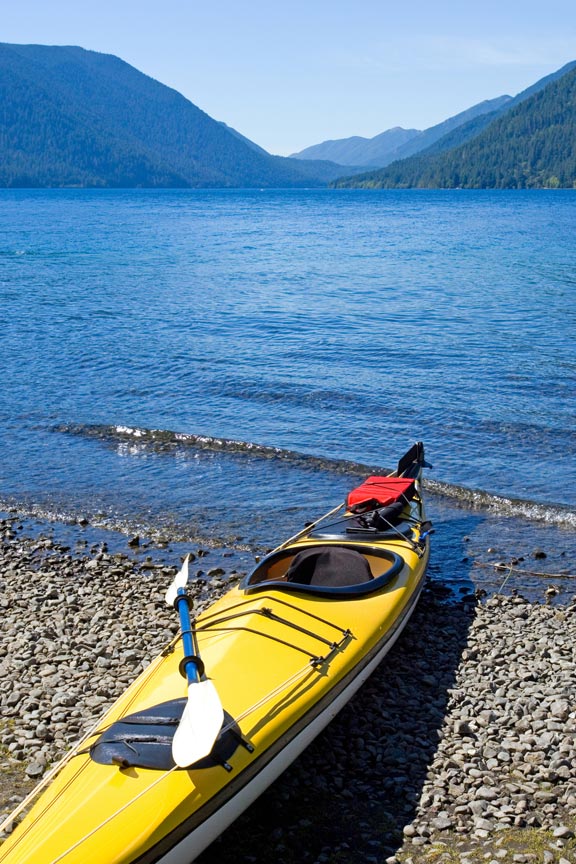 Lake Chelan offers a variety of paddling options.
If you are new to kayaking or just want to do some casual paddling around, stick to the "down lake" area between Manson and Chelan.
Mitchell Creek, which is right across the lake from Kelly's Resort, offers a wonderful boat-in campsite with a nicely protected cove that is just perfect for a kayak.
For more experienced paddlers, head to "the narrows" around the middle of the lake between 25-Mile Creek and Lucerne.
Extended paddling excursions "up lake" towards Stehekin are popular with experienced paddlers and typically includes overnight camping stays.
We'll be happy to suggest trips for you. Just let us know the time you want to spend and your comfort level with a paddle.
Lake Chelan's water temperature is typically somewhere between 58 and 68 degrees Fahrenheit (14.4 – 20°C). Dress for getting wet if you plan on doing any distance paddling or getting out far from the shore. You'll also want to keep an eye on the weather.
Weather can change fast on the lake and wind can be a major problem, producing 3 to 4 foot swells. The lake sees most of its winds between April and July. Early mornings and late afternoons are often calmest.
Fishing from your canoe or kayak is a great experience but make sure you check with the Washington Department of Fish and Wildlife for license requirements and limits.
So come on out to Kelly's Resort and soak up Lake Chelan's bright blue skies, cool clear waters, and make some memories of a lifetime!