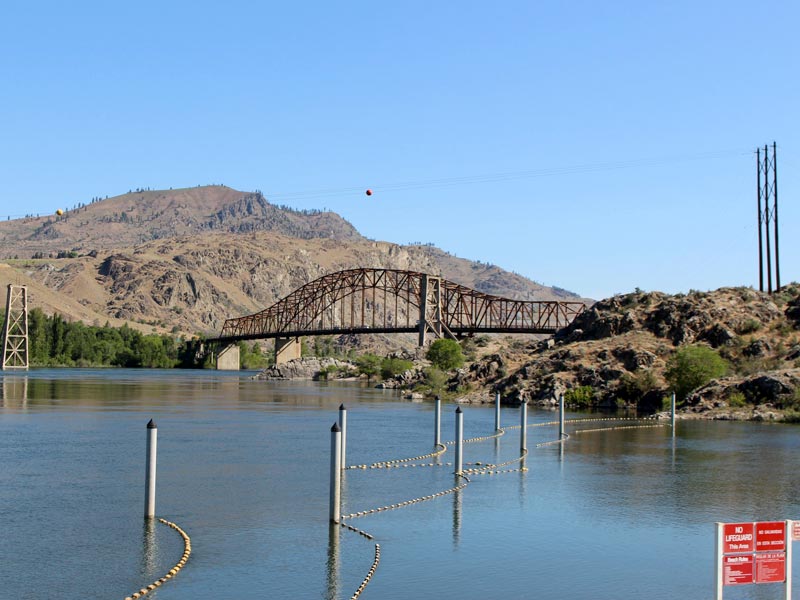 Beebe Bridge Park is one of the most popular parks in the Chelan area, with camping, picnic shelters, a boat launch, tennis courts, and more. The park is also home to one of the few designated swimming areas along the Columbia River.
The swimming at Lake Chelan is fantastic. The water is clear and, though cold, it's just what the doctor ordered on a hot summer's day.
Kelly's Resort offers both enclosed lake swimming and a heated swimming pool, so there's no need to take your trunks anywhere else.
Sometimes a change of scenery is nice, however. Those looking to mix things up should consider swimming in the Columbia River at Beebe Bridge Park.
Beebe Bridge Park
Beebe Bridge Park is located around 4 miles east of Chelan, via Highway 150, at 23459 US-97 in Orondo, WA. This is just under a half an hour's drive from Kelly's Resort.
The park is located on the east side of the Columbia River, just upstream and across the river from Chelan Falls Park.
You have to cross the Beebe Bridge to reach the park, and what a bridge it is. Beebe Bridge is a 1,040 feet long, two-lane, steel through arch bridge. It opened in 1963, replacing a previous concrete span and is one of only three such bridges in Washington. The bridge was originally designed to carry irrigation water from across the river.
Beebe Bridge Park is one of the area's best, with lots of nice amenities. The 56 acre park includes restrooms, picnic shelters, a 2-lane boat launch, showers, and nearly 50 camping/RV spots. The park offers a host of activities, too. Things like a kiddie playground, tennis courts, horseshoe pits, a shoreline trail, and enclosed river swimming.
The park is well kept, with daily cleanings, and there's almost always a nice, cool breeze coming off the river. Fantastic relief for those hot, summer days.
The park is open April through October, with the boat launch open all year-round. Both camping spots and picnic shelters require reservations. Visit www.chelanpud.org for more information.