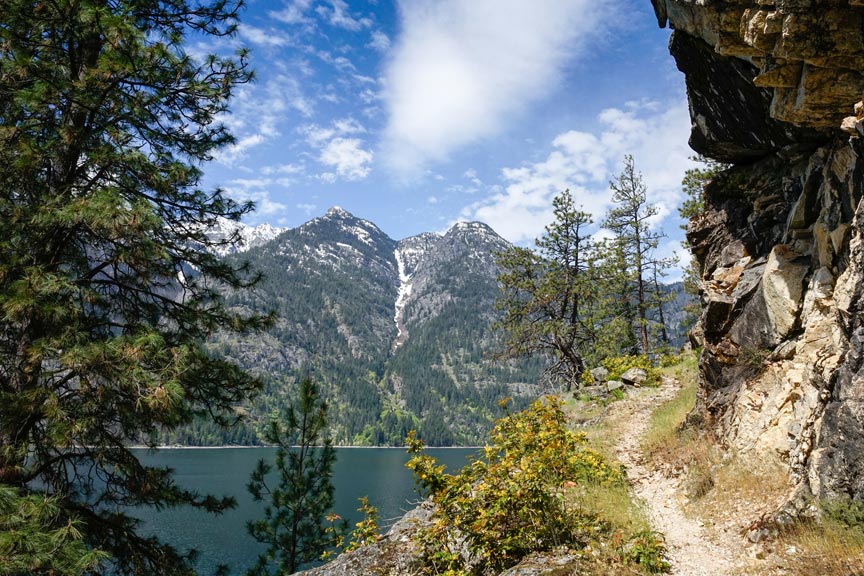 Hiking enthusiasts staying at our Lake Chelan resort will be happy to learn that the area is home to quite a variety of trails to explore. Easy, short hikes, arduous, multi-day treks, and everything in between. Lake Chelan is a hikers paradise!
For many, a stay at Kelly's Resort is an opportunity to lounge by the lake, soaking up the sun's rays. Others can't wait to take a dip, get in a boat, zoom off on a jet ski, or cast a line for one of the lake's famous 20 pounders. And who can blame them? When you're in Chelan, WA the lake is definitely the star of the show.
That being said, there's plenty of great, outdoor fun to be had off the lake, including more than 250 miles of Lake Chelan hiking trails to explore. Even better, 190 of those trail miles are restricted to foot traffic only, with no motorized vehicles allowed, promising a peaceful, safe hike.
Of course, for the visitor, picking a trail from among the fourteen major trailheads listed can be a bit daunting. Kelly's Resort is here to help with a short list of some of the more popular Lake Chelan hiking trails.
Popular Lake Chelan Hiking Trails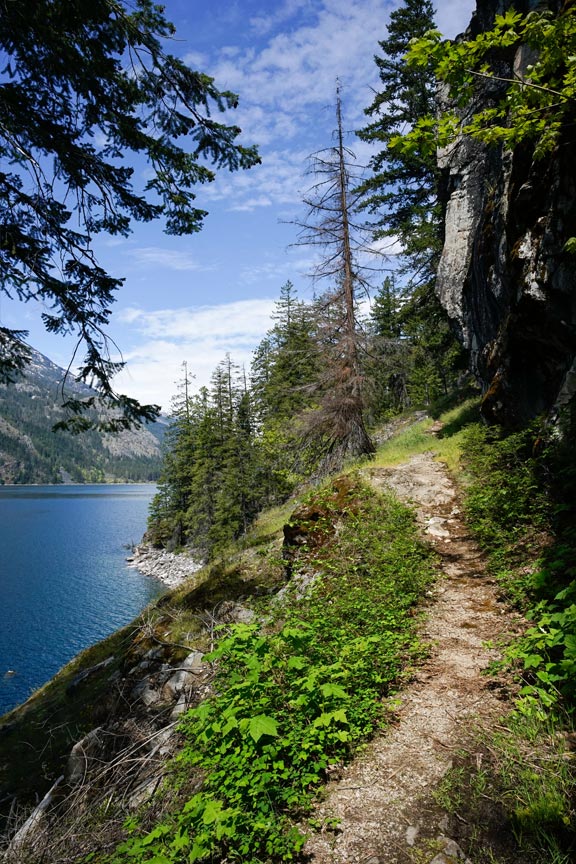 Riverwalk Loop Trail – 1 mile, easy
The Riverwalk Park Loop is a scenic, one-mile path between two bridges in downtown Chelan. The trail offers beautiful water and mountain views, shaded benches, and opportunities for both fishing and bird watching. This trail is part of the Reach 1 Trail, below.
Reach 1 River Trail – 3 miles, easy
The Reach 1 River Trail is an easy, 3 mile round-trip walk from downtown's Riverwalk Park to the uppermost section of the Chelan River, with overlooks of the Chelan Dam. Interpretive signs along the trail tell the tale of the Chelan's history, geography, and wildlife.
Little Bear Trail – 2.3 miles, easy
Little Bear is a family friendly, 2.3-mile loop trail in Lake Chelan State Park. The trail leads up from the park campground into the forest overlooking the lake. Lake Chelan State Park has 6,000 feet of waterfront, picnic tables, restrooms, a playground, and is just 4 miles from Kelly's Resort.
Blue Lake Trail – 4.4 miles, moderate
The moderate Blue Lake Trail is a popular and serene hike through sub-alpine forest to pristine Blue Lake! Lots of wildlife and incredible views.
Echo Ridge Trails – 25 miles of trails, easy to difficult
The 25 miles of trails at Echo Ridge vary from easy to difficult, with expansive views of Lake Chelan, the Stewart Range, the Okanogan Highlands, and the Columbia Plateau. The area is known as the Echo Ridge Nordic Ski Area in winter, and the trails were originally designed for snowshoeing and cross-country skiing.
Just The Start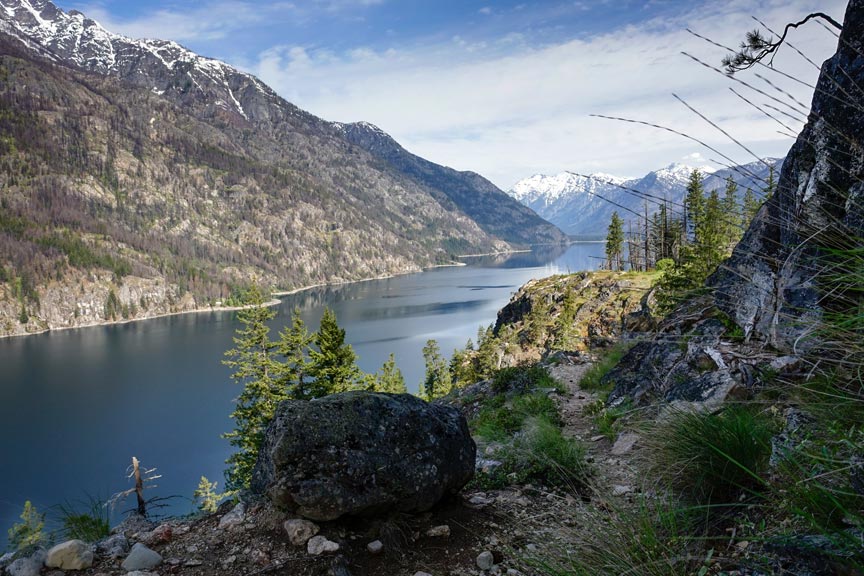 These are just a few of the many, many excellent hiking trails at Lake Chelan. Heck, you'll even find woodland walking trails right here at Kelly's Resort!
Is there a specific kind of hike, view, or destination you're after? Let us know! We can help you pick the trail and plan a hiking trip that's right for you!
Kelly's Resort is open May through October, with 200′ of waterfront, 4 docks, a beach, swimming, laundry, store, lodge, cottages, condos, and more on the south shore of Lake Chelan. Reserve your Lake Chelan getaway at Kelly's Resort today!