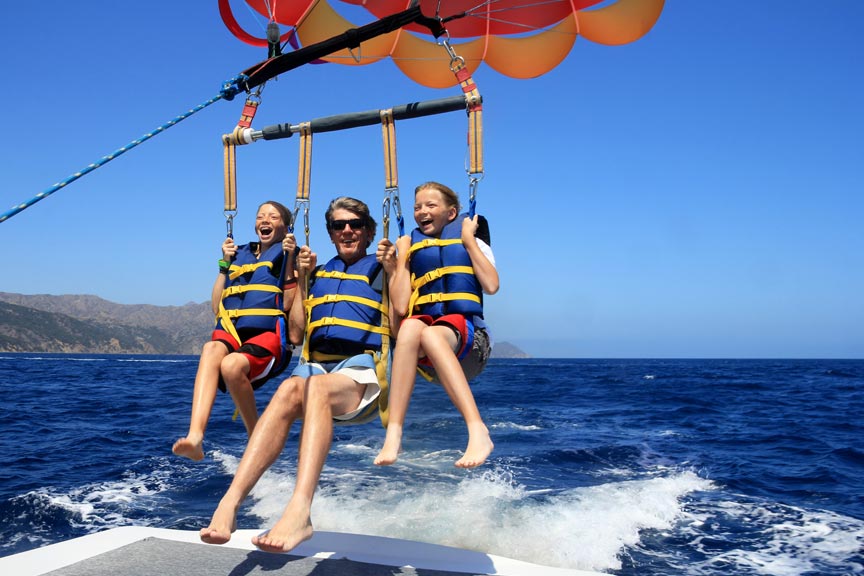 Looking for something out of the ordinary to do during your next Lake Chelan getaway? How about taking to the skies on Lake Chelan parasailing adventure?
There is no end to the fun and things to do on and around Lake Chelan. Hiking, biking, touring, kayaking, swimming, wining, dining, and shopping are just the beginning. For those who really want to change things up, there are options like white water rafting, skydiving, ziplines, and parasailing.
Parasailing?
What's parasailing?
Imagine you were small enough to hitch ride on a kite and you'll have a pretty good idea of what parasailing is.
The recreation involves a specially designed canopy similar to a parachute, known as a parasail wing. The parasail wing is attached to a vehicle – in this instance, a boat – whose forward velocity pulls the parasail wing into up the air.
Passengers are securely harnessed into the wing, then taken aloft from the boat for a fun and exciting experience. Depending on the size of the people, parasail, and vehicle towing it, wings can accommodate up to three passengers at a time.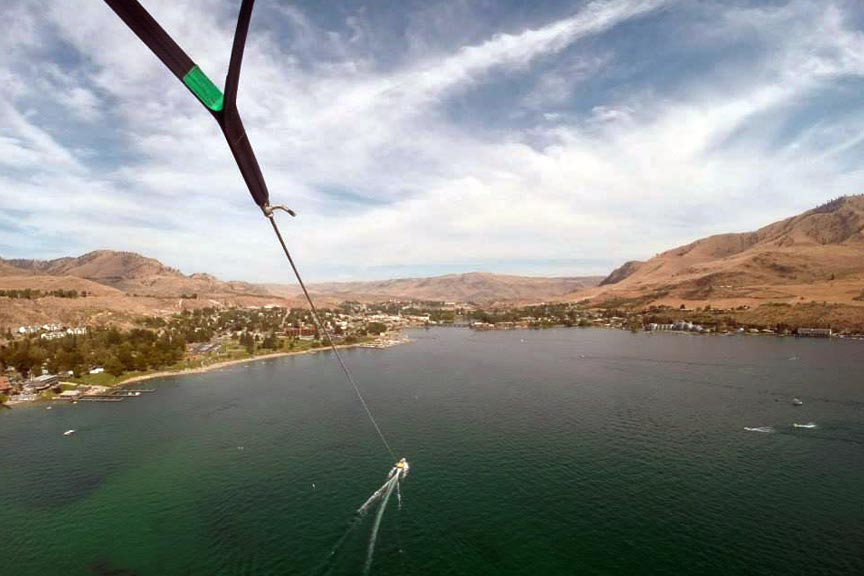 Parasailing over Lake Chelan is like no experience you've ever had before. You'll feel like you're flying as you rise up out of the boat over the water. And the views! You'll have a bird's eye view of lake, views you can only get from that height. For some extra fun, ask your guide to lower you enough to dip your toes in the lake during the ride.
The best part is, when it's time to come down, you don't splash down in the water. Instead, you're slowly pulled back down into the boat.
Lake Chelan Parasailing
Chelan Parasail & Watersports has been providing services to the Lake Chelan area for 26 years – with a perfect safety record. Your guide will provide training on what to expect before you take off, so you can enjoy a worry-free parasailing experience.
They are located at 1228 W Woodin Ave, Chelan, WA 98816. Learn more and book your adventure online at their website.
Lake Chelan Lodging
As I say at the top, there's no end to the fun things to see and do on Lake Chelan and no place makes a better home base than Kelly's Resort.
Kelly's Resort has been offering the best in Lake Chelan lodging for over 70 years. Our south shore resort offers 200′ of waterfront with four docks, a beach area, swimming, laundry, store, lodge, cottages, condos, and more. Make plans for your Lake Chelan getaway at Kelly's Lodge today!