Imagine waking to find Lake Chelan under your tree Christmas morning. Make that fantasy a reality with Kelly's Resort gift certificates!
Washington's Lake Chelan is truly a marvel. 50+ miles of crystal clear, glacier fed waters perfect for boating and offering some of the best fishing in the Pacific Northwest. Salmon, trout, bass, and more. 20 pounders are not a rarity in these parts!
Very few pastimes are as fun as boating on Lake Chelan. Whether you prefer powerboats or paddleboats, you're welcome on Lake Chelan. Better yet, Kelly's Resort offers rowboats, canoes, paddleboards, and kayaks to our guests.
The Lake Chelan valley is home to 14 major trailheads and more than 250 miles of hiking trails, including a section of the Pacific Crest Trail.
Lake Chelan also has its own, official AVA and over 30 different wineries and vineyards, many of them award-winning. Most are located at the southern end of the lake, within easy distance of Kelly's Resort, including Tsillan Cellars, Tunnel Hill Winery, Mellisoni Vineyards, and Nefarious Cellars.
Other truly spectacular Lake Chelan experiences include taking The Lady of the Lake to the remote village of Stehekin, whitewater rafting, apple picking, and skydiving to a winery.
Hiking, boating, fishing, swimming, golfing, wineries, museums, shopping, and more – there's no end to the fun at Lake Chelan. Is it any wonder that it's one of Washington state's most popular vacation destinations?
Kelly's Resort Gift Certificates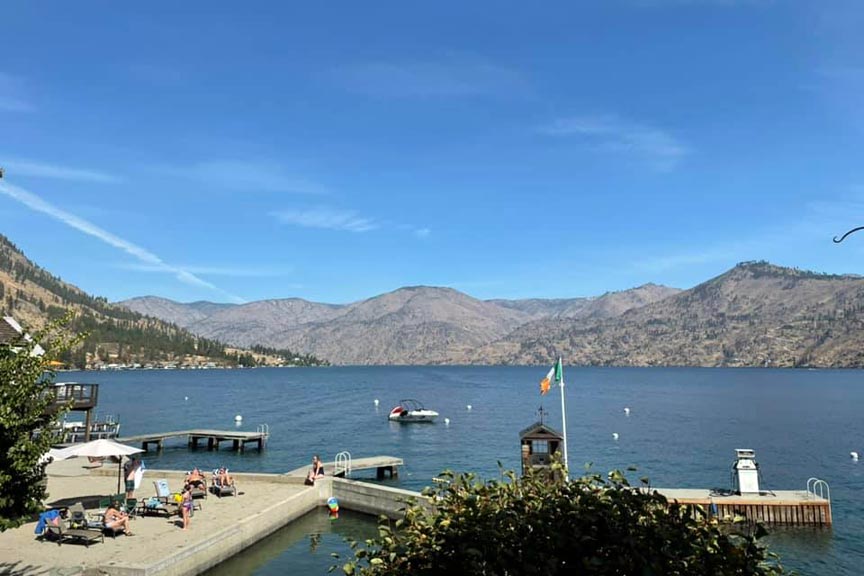 Kelly's Resort is a small, family, lakeside resort, has been providing Lake Chelan vacations for over 70 years.
We're open every year between April 1st and November 31st with 11 hillside cottages and 4 lakeside condos to choose from. Popular amenities include our outdoor swimming pool, hiking trails, lake swim area, docks, high speed internet, laundry facility, and a small convenience store.
Kelly's Resort gift certificates are the perfect gift for a variety of reasons. One reason is how incredibly flexible they are.
Our gift certificates are completely customizable, with no set amount. Make them large, small, or any size you'd like!
Better yet, they can be use for almost anything at the our Lake Chelan resort. This includes not just accommodations but also items purchased at our on site convenience store.
Kelly's Resort gift certificates can be emailed or physically mailed to whatever destination you wish. Send them to yourself to hand over in person, have them mailed directly to your recipient, or let email do the the work. It's up to you!
Finally and perhaps best of all, our gift certificates never expire. This lets your recipient use your thoughtful gift on their own time, rather than having to dance around an arbitrary expiration date.
Purchasing a Kelly's Resort gift certificate couldn't be more simple. Just click the link, fill out the details, pay, and you're done. Instant Lake Chelan getaway surprise!
Order before the end of 2021, using the code GIFT21, and receive a 10% discount off your purchase. That's what's known as a win-win! Lake Chelan getaway for your friend or loved one and savings for you! Save even more by booking your stay during our discounted, spring (April May) or fall (Sept Oct) shoulder season.
Happy Holidays!